Finding WordPress Developer in Srinagar? We are here to help you with the best WordPress developer in Srinagar.
If you're a business owner or an individual looking to establish your online presence, having a well-designed and functional website is crucial. In today's digital age, WordPress has emerged as one of the most popular and user-friendly website development platforms.
And if you're based in Srinagar, you're in luck! Araaf Innovations is the go-to WordPress developer in the area, offering top-notch services that can unlock the potential of your website.
With a team of highly skilled and experienced developers, Araaf Innovations stands out as the best WordPress developer in Srinagar. Their expertise in WordPress development is unmatched, and they have a proven track record of delivering exceptional results to clients across various industries.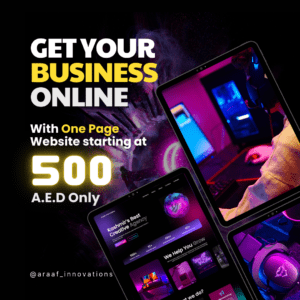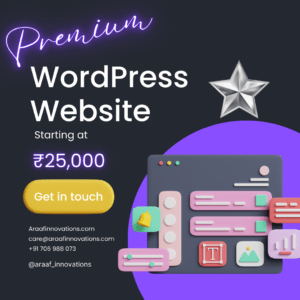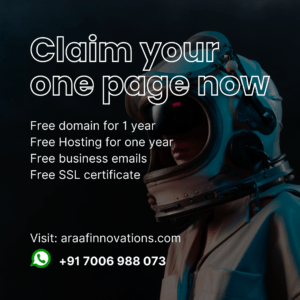 Why Choose Araaf Innovations?
When it comes to WordPress development in Srinagar, Araaf Innovations is a cut above the rest. Here are some reasons why they are the go-to choice for businesses and individuals:
Expertise: Araaf Innovations has a team of WordPress developers who are well-versed in the ins and outs of the platform. They stay updated with the latest trends and technologies in WordPress development, ensuring that your website is built using the best practices.
Customization: Every business is unique, and Araaf Innovations understands this. They offer highly customizable WordPress solutions tailored to meet your specific requirements. Whether you need a simple blog or a complex e-commerce website, they have got you covered.
Responsive Design: With the increasing number of mobile users, having a responsive website is essential. Araaf Innovations creates WordPress websites that are fully responsive across all devices, ensuring that your potential customers have a seamless browsing experience.
SEO-Friendly: Building a website is not enough; it needs to be optimized for search engines to rank higher in search results. Araaf Innovations follows SEO best practices to ensure that your WordPress website is easily discoverable by your target audience.
Ongoing Support: Araaf Innovations believes in building long-term relationships with their clients. They provide ongoing support and maintenance services to ensure that your WordPress website is always up-to-date and running smoothly.
The Importance of a Professional WordPress Developer
While WordPress is a user-friendly platform, it takes more than just basic knowledge to create a truly exceptional website. Here are some reasons why hiring a professional WordPress developer like Araaf Innovations is crucial:
Expertise: Professional WordPress developers have extensive knowledge and experience in WordPress development. They understand the platform inside out and can leverage its full potential to create a website that exceeds your expectations.
Time-Saving: Building a website from scratch can be time-consuming, especially if you have limited technical knowledge. By hiring a professional WordPress developer, you can save valuable time and focus on other aspects of your business.
Customization: While WordPress offers pre-designed themes and templates, they can be limiting when it comes to customization. A professional WordPress developer can create a unique and fully custom website that reflects your brand identity.
Technical Support: If you encounter any issues or need assistance with your WordPress website, a professional developer can provide prompt technical support. This ensures that your website is always up and running without any downtime.
SEO Optimization: Professional WordPress developers have a deep understanding of SEO best practices. They can optimize your website for search engines, improving its visibility and driving organic traffic to your site.
Conclusion
When it comes to WordPress development in Srinagar, Araaf Innovations is the name to trust. With their expertise, customization options, responsive design, and SEO-friendly approach, they can unlock the full potential of your website. Don't settle for anything less than the best – choose Araaf Innovations as your WordPress developer and take your online presence to new heights.